The Fambro House
Fambro/Arthur Home: A Structure In Desperate Need
By Linda Derry, Site Director
Old Cahawba, Alabama Historical Commission
In 1858, when the largest mansion in the state was completed at Cahawba, it stood along side hundreds of other homes and public buildings.Today, only two antebellum structures remain standing at Cahawba amid the mysterious ruins and decaying splendor of Alabama's most famous ghost town.
The Fambro/Arthur home is the best known of the two. This modest frame cottage was certainly not the grandest of Cahawba's mansions, but it was the type of house that most Cahawba families called home. Restored, it could become a powerful symbol of homecoming for Alabama's scattered descendants.
The Fambro house has been purchased on behalf of Alabama's citizens by the Alabama Historical Commission, but the structure is still at risk because of its deteriorated condition. Due to years of flooding and neglect, the tall foundation on which this building rests is shockingly fragile.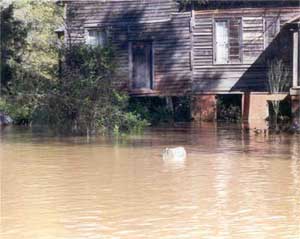 Visitors currently cannot be allowed near the house because of the danger of collapse. Temporary stop-gap measures have been taken to shore up the foundation, and a structural engineer has been hired to prepare plans for stabilization.
Unfortunately, funds to restore the structure are currently not available. Any and all donations to help save this home are welcome.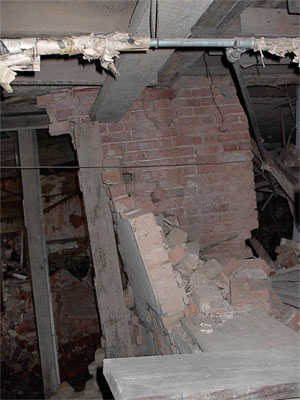 When was the house built?
Tradition maintains that the Fambro/Arthur Home was built in the early 1840s by W.W. Fambro but parts of this home could date back to the Capital Era (1819-1826).
 According to Dallas county deeds, Fambro bought the two-acre block in 1841 for $500. In 1851, he mortgaged it for $5,000, indicating that he had made major improvements to the lot. Advertisements found in old Cahawba newspapers tell us that by the 1850s Fambro was an attorney who also ran a saw mill. He supplied pine, white oak, hickory, beech, popular & cedar and filled orders for cabinet work. One can reasonably speculate that his mill supplied the lumber for this house. Curiously, however, only half of the house frame is built of sawed lumber, the other half appears to have been hand hewn, prompting some to speculate that a portion of this house may be earlier than the traditionally held 1840 date.
Who lived in the house?
According to the 1850 census, W.W. Fambro, age 45, lived in this house with his wife Elizabeth, age 28. Eight years into their marriage they remained childless, but their household did not remain empty. In fact, twelve other people lived in their home: Wm. P. Eaton, the principal of the Cahaba Academy, Miss Sarah Dudley, a 21 year old instructor, Mr. Eaton's family, and eight other children. The boy's and girl's academies were located just one block south of the Fambro home. Mr. Fambro was a member of the Academy's board of trustees and Mrs. Fambro was a former teacher herself, so they probably opened their home to rural students that needed to board in town during the school term. One of the little girls, a Mary Johnson, aged eight, was brought to Cahawba by Mrs. Fambro's brother. He was a ship's captain and had saved the girl from a sinking Mississippi river boat when she was just a baby. Mr. and Mrs. Fambro raised little Mary as if she were their own.
W.W. Fambro advertised his town home for sale in August of 1853, describing the dwelling house as:
"Large and conveniently constructed, having 12 rooms beside a hall, 2 porticoes and a back gallery. There are attached all the necessary outhouses, a fine garden, orchard & house lot, the place is handsomely decorated with shade trees, and ornamental shrubbery. An artesian well is now being drilled."
Shortly after he put his twelve room house up for sale and moved out to his mill place six miles from town, the kitchen, which was "occupied by negroes," caught fire and was destroyed. The main house was saved through the efforts of the town's people.
Other Antebellum Occupants
In November of 1855, a newly married D.S. Troy bought the Fambro house. Sadly, his wife died in 1856, so he sold the house to John D. Williams in February of 1857. All of these men were lawyers. In 1860, J.D.F. Williams, 43, lived there with his 30 year old wife Emily, four children and 11 enslaved laborers. They remained in the house until his wife died; then in 1866, T.J. Portis purchased the place. Portis was a part owner in the Cahaba distillery, an important business during the Civil War. Folklore maintains that gallons of brandy, wine, cordials and cherry bounce were hidden from Wilson's raiders in the artesian well.
Post-bellum History
After the war, a William Bell, and then Mary Bell owned the house. Ezekiel Arthur bought the house on April 19, 1894 for $2,000. Ezekiel was a man born into slavery but took advantage of his freedoms after emancipation. Family tradition maintains that he traveled to several states to locate family members that had been "sold away." After bringing them to Cahawba, he became a successful family man, farmer and land owner. The Arthur family continued to live in the house until the late 1990s. Pictures taken in 1934 seem to show that the Arthurs' added the northwest corner of the house in that year. This same set of photos show a semi-detached kitchen wing south of the current structure that has since disappeared. The last resident of this house was Mattie Arthur, a daughter-in-law of Ezekiel Arthur. She was her husband's second wife and reportedly moved into the house in 1944.
Fambro House Floor Plan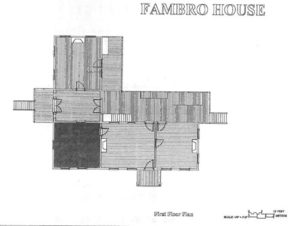 Library of Congress Photos
The Library of Congress has pictures of the Fambro/Arthur House in their "Historic American Buildings Survey" Collection. It is filed under the name "Bell House." These photographs were taken in 1934.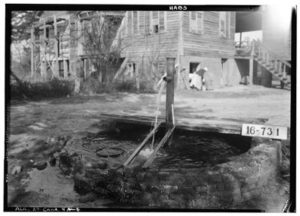 This photo shows the side of the home, with the free-flowing artesian well.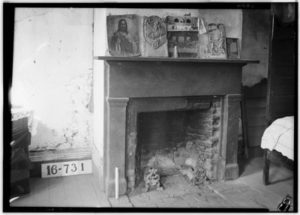 This photo shows the massive fireplace.